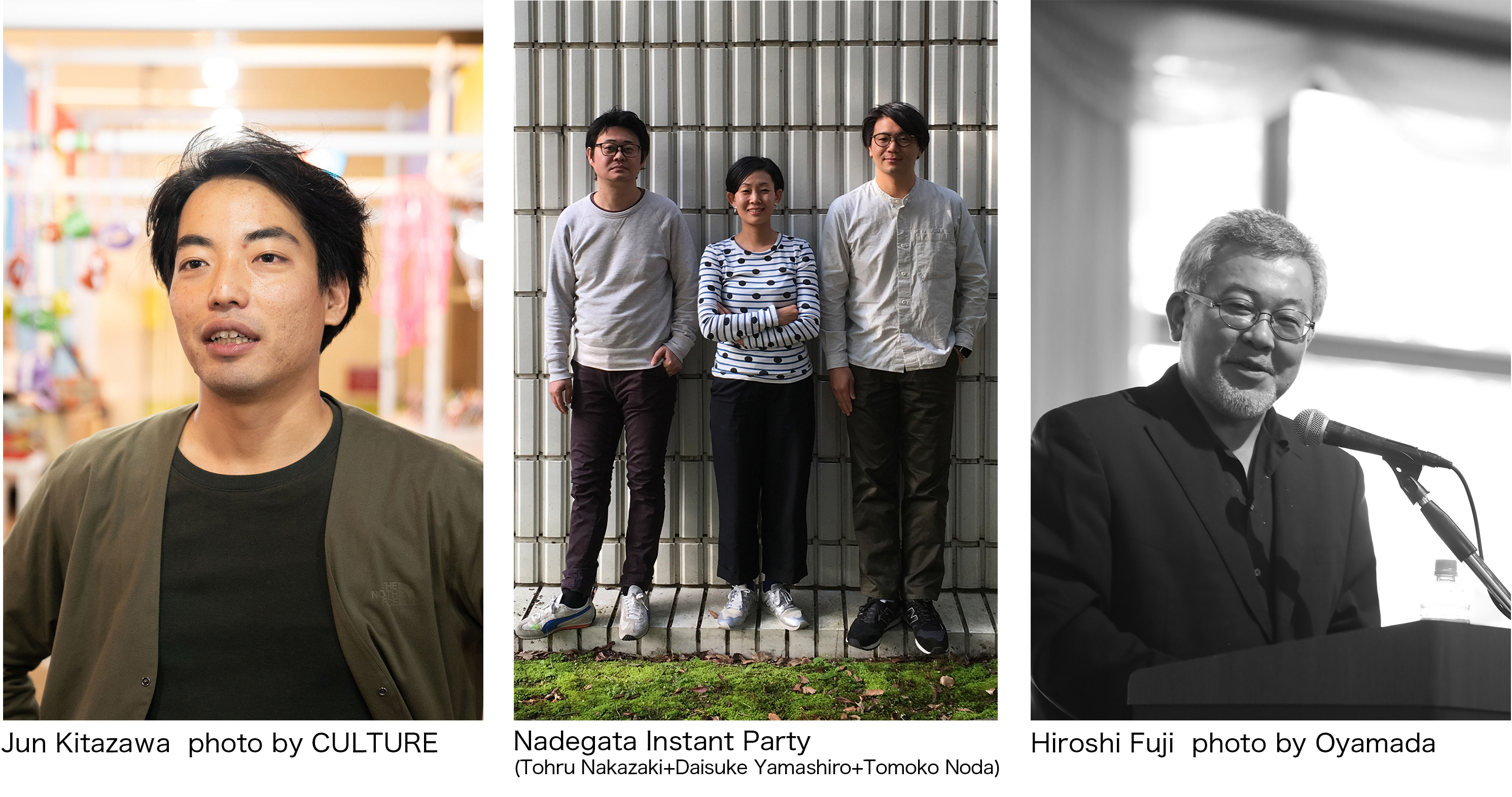 Jun Kitazawa
Born in 1988 in Tokyo, Japan. Artist and president of of Jun Kitazawa Office Yakumo. Working together with administrative agencies, educational institutions, medical institutions, private companies, NPOs, regional organizations all over the world, he organizes art projects that come in close contact with people's lives. Through this work he hopes to build a culture of creativity within society by cultivating a place where questions about community and everyday life can be asked. His projects in recent years have put an emphasis on continuity and aim to integrate with local culture and become a part of everyday life.
Message from the Artist
I first visited Towada from my home in Indonesia in June 2018 and visited a second time in winter after the snow had accumulated. The slight time difference and more than slight temperature difference in Towada made it hard to tell how far I'd traveled, as if I'd lost sense of where I was. Perhaps I'll get used to it after I visit a few more times. In LOST TERMINAL, a new project created for this exhibition, I will introduce to Towada some of the different vehicles that are found on the streets of Indonesia for people to ride and use in order to bring new perspectives to the city. The Towada Art Center will become the terminal from which these vehicles come and go, and I hope that you will enjoy exploring the city aboard these exotic creations. Not quite Japan and not quite Indonesia, you may feel as if you've been transported to some distant, unknown place. But just as I felt while visiting Towada, as spring turns into summer, perhaps these exotic vehicles will begin to feel not so exotic after all. I look forward to seeing where we eventually arrive.
Nadegata Instant Party (Tohru Nakazaki + Daisuke Yamashiro + Tomoko Noda)
An off-beat unit that flouts convention, Nadegata Instant Party was formed in 2006 and consists of three members: Toru Nakazaki, Daisuke Yamashiro, and Tomoko Noda. They are committed to serving local communities and begin their creative process by producing just the right pretext for that area. In order to accomplish their goals, they involve many participants and create "reality" from a single event. They create their artwork by combining the narration of the process of a pretext becoming reality with installations, video and performative methodologies, and other mediums.
Message from the Artist
Since founding Nadegata Instant Party in 2006, we've exhibited a number of project-based artworks throughout the country. Each place we visit and every person we meet has a profound impact on each of our works. There have been a number of times when our projects have ended up going so far beyond what we originally envisioned that we became totally engrossed in them, to the point of being ridiculed as "an offbeat unit that puts the cart before the horse." Suffice it to say, we're certainly familiar with things becoming "stranger than fiction." Our latest project, which will debut at the Towada Art Center, is centered around creating virtual realities. We have conceived an experiential work that utilizes image, sound, and space to combine physical and virtual realities right before the visitor's eye, begging the question—is this fact or fiction? It's still early on in our project, but the unique character of Towada has begun to reveal itself to us. For the time being, we'll snack on the large supply of black garlic we've been gifted as we continue to put the cart before the horse.
Hiroshi Fuji
Artist. Born in 1960 Kagoshima, Japan. Graduated from the Faculty of Fine Arts, Kyoto City University of Arts. He has led a colorful career lecturing at the Papua New Guinea National Art School, joining an urban planning group, establishing the Fuji Hiroshi Design and Production Studio, and serving as director of the Towada Art Center. He is now a professor at the Akita University of Art and serves as president of Arts Center Akita. He has been involved in many art projects and has exhibited his work extensively both in Japan and abroad. In 1992, he established the Fuji Hiroshi Design and Production Studio and turned his attention to the community (chiiki), employing methodologies that combine collaboration and appropriate technologies in pursuit of ways to elicit artistic expression.
Message from the Artist
"You gotta do something more innovative!" That was something Takeshi Shima's old college friend Reiichi always said. Art students find themselves attracted to artworks of every genre from every country and era. All of them start creating through imitation, but that only gets them so far. At some point, they must create something that has yet to exist in the world. Whether or not they can trade imitation for innovation is the real issue.
Oh, how I miss those days. I myself have long grappled with the issue of creative invention: how can one create something that has never existed before? And I've thoroughly enjoyed the process, even at the expense of my family and physical wellbeing. I first visited Towada in 2003 amid my continual efforts to implement systems, spaces, tools, and relationships that help foster the creative process. After hosting the family-oriented event Kaekko at the Central Community Center in Towada, I administered a survey about art. As a direct result, the Towada Art Center opened in 2008. Beginning in 2012, I based myself in Towada and was involved in the management of the museum for four years. Plenty of my ideas matured during my time in Towada and Oirase and became challenges for the future. In this exhibition, I want to present the adventures of Takeshi Shima as a novel and miniature three-dimensional picture scroll.